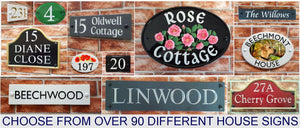 QUALITY HOUSE SIGNS - HOUSE NUMBERS - HOUSE NAMES & PERSONALISED ADDRESS PLAQUES FOR YOUR HOME
Welcome to our online House Sign Shop – We offer unique personalised signs and plaques traditionally crafted with care to suit your individual requirements. Established in 1995 and selling our products online since April 2000, we offer a vast range of House Name & Number Signs which are shown in our distinct collections below. These British products are all made to order & lovingly crafted by our UK team of skilled sign makers. We specialize in making only quality, long lasting outdoor plaques that will stand out from the crowd Find out more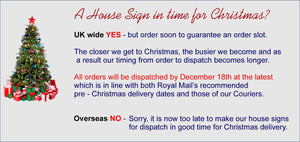 OUR VARIOUS HOUSE SIGN COLLECTIONS ARE SHOWN BELOW
Click on any image to view the full collection
DEEP ENGRAVED SLATE SIGNS
Traditionally v-groove engraved house signs in dark grey honed slate. Available in white, gold & chromed silver colour inlays. Deep engraved 10mm thick honed slate with a choice of twenty different fonts to personalise your home. Many popular sizes with bespoke sized signs also available. Slate house numbers from only £20.95
View House Signs in Slate
RUSTIC HOUSE SIGNS
A Collection of rustic style house name and number plaques giving a rustic country look. Made from reconstituted slate and sporting white reflective text these plaques will show off your home address in style.
View Rustic House Signs
ROUND OVAL HOUSE PLAQUES
Our collection of oval house signs are available in four sizes, four background colours and boast white reflective text and numbers in a choice of over 20 different fonts so you can personalise your house plaque to suit the style and period of your home.
VIEW ROUND & OVAL SIGNS
RECTANGULAR HOUSE SIGNS
These classic rectangle shaped house signs not only look good in daylight but also show up better at night thanks to the white reflective house names & numbers which is the standard feature with all our 'classic' house signs
VIEW RECTANGULAR SIGNS
BRIDGE TOP HOUSE PLAQUES
Our Bridge Top home address signs come in different sizes and colours and all have reflective text and numbers giving better visibility during hours of darkness.
VIEW BRIDGE TOP SIGNS
DIRECTIONAL SIGNS
If the entrance to your property is tucked away, round a corner or up a long driveway and hard to find we can make signs which have directional arrows or instructions on how to find the way to your front door.
More about direction signs
HAND PAINTED HOUSE PLAQUES
Superb Custom Painted Pictorials on a selection of our larger reflective signs. - Each pictorial is truly unique. Our talented artists can hand paint any suitable pictorial on your house sign to match your requirements. These are not set motifs but individually designed and hand painted the finished decorated plate is completely personalised to you and no two signs are ever alike
VIEW HAND PAINTED SIGNS
Customer Testimonials
Just wanted to say thank you very much for my house sign. It's perfect, brilliant job, great quality and finish. Can't wait to put it up this weekend. Thank you so much guys. Kindest regards, Jacqui

Jacqui Haynes
We would just like to let you know we are very pleased with our sign The Brambles.

John Jary
Our number was delivered about an hour ago. Really pleased with it , it was well worth the wait.
Thank you very much
Best regards
Chris

Chris Hodges
FEATURES THAT SET OUR HOUSE SIGNS APART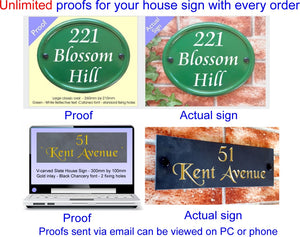 Design Service
Once you have placed your order we will create a design of your house sign to your specifications and send you a proof by email. You can then either 'approve' the proof or request any alterations to the layoutof the sign, the font used or the colour. We will then send an amendment.

Deep V-groove Engraving
We only use traditional V-groove engraving methods for engraved slate house signs and our solid surface white signs. We believe this is the ultimate way to produce beautifully shaped, deeply carved house names and house numbers.
- Please note that most other online retailers only offer shallower laser engraving or sandblasting methods.
Reflective House Plaques
Our reflective plaques not only look attractive in daylight but also show up well in hours of darkness. The white lettering and numbers are made of a laminated layer of a silvered background with thousands of clear micro beads encapsulated with clear PVC to keep them weatherproof. The text will shine up from a distance at night when light is shined at them so helping visitors to pinpoint your home more easily.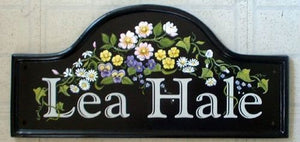 Personalised Hand Painted Signs
Our talented artists can hand paint a suitable pictorial on your house sign to match your requirements. - We don't offer standard set motifs for painting - each pictorial is individually designed and hand painted to visually balance within the text and numbers on the plaque so the finished design is completely unique to you.